WELCOME to Ride on Horseback!


Learning to ride trails can be fun for any riding ability.
* Rebecca k.
Roy, WA
11/19/2011

Amazing all year round horseback rides customized to your ability. I've went twice with Steve McKee and had an awesome time. I recommend Ride on Horseback to anyone that wants a true scenic, relaxing, enjoyable ride. Thank you Steve and Diane McKee for offering such an great service.

* Tracey n.
Auburn, WA
8/29/2011

My mom, sister and I just did a trail ride with Steve yesterday (Aug. 28th) to celebrate my mom's upcoming birthday and it was SOOO much fun!!! I have over 12 years riding/horse showing experience, my mom (64 yrs. old) has slight horse experience and my sister had no horse experience. Even with that wide disparity of experience, we all had the perfect horse! Steve assigned me a horse that had a little more "pep" in his step to keep my ride interesting, he gave my mom a horse that would take care of her but still let her have fun and he gave my sister a great horse that was stable and knew how to take of her!!

With that said, we did EVERYTHING! We went through water, over fallen trees, up hills, through brush, through fields, everything! We also got to walk, trot, canter and gallop (which you NEVER Get to do on other trail rides!!)!! It was great because Steve was always checking in along the way and asked what we wanted to do (were we comfortable running, did we want to go right/left, etc.) and gave us a low down on some fun facts about where we were riding. We all got to take turns leading and it was overall SUCH a blast! WELL worth the money!!

I used to think that going on a "trail ride" was bringing my show horse on the Soos Creek Trail or the Lake Youngs Reservoir (where it was flat and gravel where people would walk/bike/run with their dogs) but I was ALL wrong!! This is a real trail ride where you are in the woods and really experiencing the "wilderness" and nature! I think I have been bitten by the REAL "trail ride" bug and will have to continue doing it! I never once felt in danger and I always felt comfortable with the trails/terrain that Steve was choosing.

I cannot explain how GREAT of a ride it was and how GREAT of a leader Steve was. Definitely the highlight of my year!! My sister is already saying she wants to do it again for her birthday in November : )

* Katie H.
Gig Harbor, WA
10/24/2010

This was the most fun I have had in a long time! It was an hour drive to get there from where I live and it was worth every second! Steve, the owner, took me to meet the horses and brush them before the trailer ride to our destination. He lets you create a bond with the horse and allows you to take your time. From that point on the experience just got better and better! The trail was amazing and exhilarating. The view, even though the clouds were everywhere, was breathtaking! I felt safe with Steve and will definitely come back again and again!

* Jamie F.
Olympia, WA
9/6/2010

This is the best experince you will ever have! One on one attention, and the most fun! This is real trail rides not walk around in a circle and having a huge line of horses that just follow each other because they have done the same thing 15 times in a row, no, not here, this is a new experince! I will return many times! My mother and 8 year old daughter went together so really can be costumized to any age and level! Steve (owner) is great! He gave my daughter so much complements letting her know she was doing great!
We still havent stoped talking about how great it was! Dont waste your time go here! You will be happy you did and will go back again for sure!

* Tiffany M.
Tacoma, WA
8/22/2010

This was one of the best outings on horse back I've ever had!!! I surprised my husband with a 4-5 hour trail ride, I packed lunch for us and we had an outstanding experience. Are trail guide Steve was so friendly, he went at are pace trying to make sure we got the most out of are ride, the ride its self was way better then some of the lessons Ive taken, my husband knew very little about riding horses but by the time we were done he was a much better rider. Steve also had a lot of info on the area we were in, he answered all of our question about the area, the horses, and anything else that came up over the 5 hours. If I could give it more the five stars I would, if you are looking to go trail riding do your self a favor and give this experience a shot you wont regret it!!!! The only down side to the whole thing was my husband wasn't use to being on a horse for that long and was sore for two days after. (which was my fault ~_~ for picking such a long ride) But we both cant wait to go again!!!

* Marissa B.
Olympia, WA
8/8/2010

This is the place to go for an affordable back-country trail ride. The horses are well-mannered and enjoy their time on the trails almost as much as you will. Whether you're on nicely kept trails or making your own, the time is a nice mix between relaxing and exciting - depending on how fast you're going! Steve knows what's he talking about and cares not only about you but the horses as well. Any level of rider will have a blast. I'm an experienced trail rider, and we spent most of the time at a fast clip, but that didn't change how great it was to get out, go and simply forgot about the stress of my day-to-day life. I would suggest Ride On Horseback to anyone looking for a day away, or a chance to experience real riding in the gorgeous northwest..

* Claudia W.
Yelm, WA
7/31/2010

AMAZING!!!!! This is THE most place to go for horseback riding. I went on a 5hr ride today and it was breathtaking. We went over meadows, through thick brush ( making our own trail), throu water, and up and down lil hills. I was NOT ready to head back when it was over, i had that much fun. The guide was so very helpful with everything and his wife is such a sweetheart too. It is worth EVERY penny you spend and its well worth the time. I AM defently going again. You WON"T find anything better, trust me. count me in, in your next adventure. YOU GUYS ROCK!!!!

* Michelle B.
Puyallup, WA
7/25/2010

WOW and AFFORDABLE!!! I am 33 years old and I have a 13 year old girl. I know nothing about riding and my daughter has been doing lessons for six years; we both had a great time even though we are at two different levels. The 4 hour trail ride was exciting all the way through. I am definitely going to do this again and my daughter wants to go on these rides every week. Thanks to the instructor for making my first time pleasant.

*Rebecca B. Seattle, WA 8/26/2010
If you are looking for a REAL trail ride this is the place to come! Tired of paying WAY too much for a boring nose to butt walking trail ride where you could fall asleep... then this is the person to call! Very friendly trail guide, nice experienced horses! The trials are beautiful and the rides are custom to the riders riding level!!! Pricing is very worth what you get!
overall great time and i can't wait to do it again!

*Sandy b. WA 9/28/2010
Sent my two sons on a ride with the owner Steve and they had such a great time. Neither son had been on a horse since they were little and Steve took them up through some trails and up a big mountain. They both had a blast and can't wait to go again! Bring a lunch with you if you go, my boys did not and ended up eating all the horses carrots :( Poor horses :(

*Bryan K. Bothell, WA 7/28/2010
What an amazing time. We rode for just over three hours, and none of it was boring. We got to make our own trail, we got to walk the horses through water, and we even got to ride the horses as fast as we wanted to. It was well worth the trip, and very very well worth the money. This is a must for anyone that wants to ride a horse, but doesn't want to empty their wallet.

Steve,
Thank you so much for the experience, the memories, and the life-changing impact on my children (and me), and the kindness and hospitality that you provided.
It was more than I imagined it could have been.
I have told so many people about our day. I hope some business comes your way as a result. I will hold onto your card and hope to do this again very soon.
Thank you also for the great pics.
Here a couple of the frog.
Have a great ride! You are changing peoples' lives! That's awesome!
Thank you!
-Kirk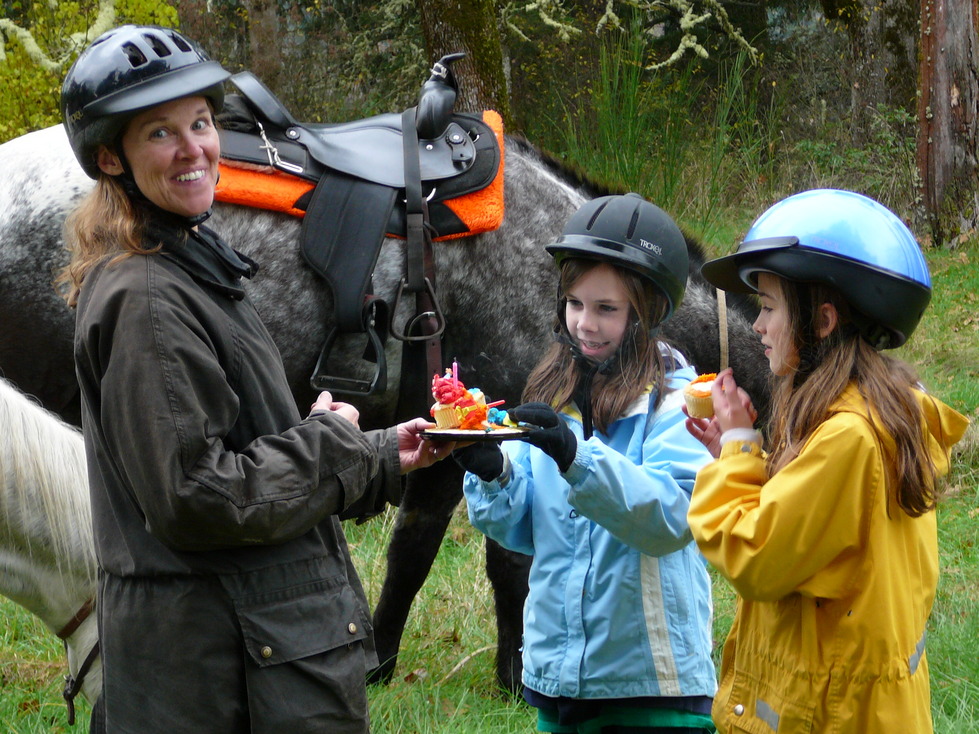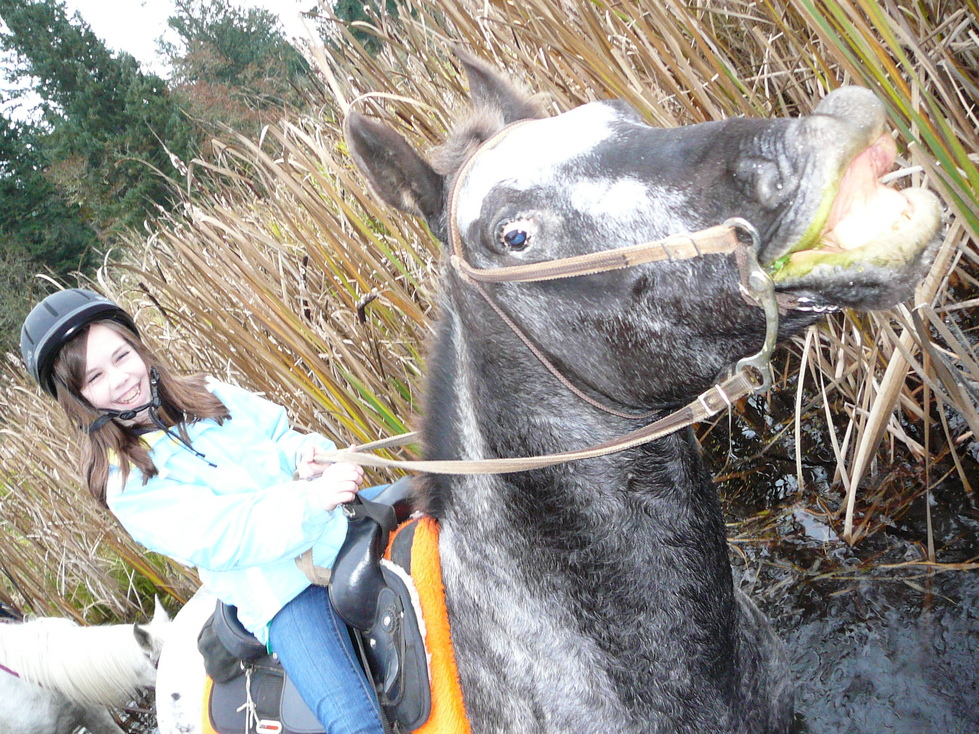 Constance M. Yelm, WA 10/14 /2012
Took my daughter for her 12th birthday yesterday and had a wonderful time despite the rainy weather. Having booked trail rides in the past I was expecting your typical nose to rear walking along a well worn path but instead I got the best trail riding experience of my life. My daughter had never galloped before but by the end of our ride she was not only galloping but jumping over small trees that laid in our path. It was amazing, and I will never be able to thank Steve enough for having faith in her and giving her an experience she will never forget. We are already planning our next ride.

Valda M. Puyallup, WA 10 /5/2012
OK - I'm not sure where to start. First of all, Steve and Diane are the nicest people you will ever meet. But be prepared as this is not going to be your average ride. He will instruct you and help you become attuned to your partner. He is an experienced outdoorsman and rider and his horses are amazing and experienced trail horses. The ride was custom to our comfort level and he corrected us as needed. We got to gallop and run up hills and he will challenge you to take it to the next level bringing on a complete adrenaline rush. Too bad there are only 5 stars because Steve, Diane and his pack get 10 from us! Thank you for an amazing day and the opportunity to experience the wonderful back woods. I can honestly say I can't remember when I've had more fun. We can hardly wait to see all of you again and THANKS for a truly memorable day!!!
Josh H. Seattle, WA 9/22/2012 Let me start with saying this is not some boring pony ride. Steve is a down to Earth person, who makes you feel comfortable right away and treats you like family as soon as he meets with you with jokes and great conversation. I honestly felt like I went riding with an uncle that I haven't seen in ages. I have literally next to zero horseback experience, but I was ready for a challenge and Steve didn't disappoint. I galloped for the first time and it was the most incredible rush! Tips for guys, dont wear boxers if you are planning on having a family in the future and don't know how to ride a horse. Although I was completely sore the next day, I had a genuinely great time. We went out into the wilderness which was surprisingly a 10 minute drive, and got to see the most amazing views, and wildlife. Not a person in sight. Every trail is different when you ride with Steve and he caters to your experience, and will push you into your element too. Thanks to him I now feel so much more comfortable horseback riding and look forward to doing it very soon with him again. His wife Diane is simply a pleasure and both are genuine people with good hearts. Thanks again Steve & Diane!

Courtney F. Auburn, WA 9/19 /2012
Best horseback riding experience ever! My boyfriends took me for a surprise for my birthday, and it certainly was more than a surprise! Completely exceeded my expectations for trail riding that I've done. You will see the most beautiful scenery, and You will feel completely free and relaxed. Then prepare for the rush of soaring through the brush and remember what adventure really is. The views you will see are breathtaking. Steve and Diane are such kind people, and Steve is very knowledgeable and u know are in good hands. This is a must, if u want to have a refresh in your life, all your worries are gone.

Jessica M. Kent, WA 8/6/2012
My boyfriend, his son, and I went riding with Steve end, peer pressure prevailed (as well as reassurance from Steve) and enabled me to not yesterday, and it was awesome! I had never ridden a horse and was very nervous to do so. In the only get ON the horse, but actually ride it too. It was so much fun, and by the end I didn't want to say goodbye to Gray, the horse I rode.

Melanie O. Orting, WA 8/3 /2012
Took my friend for a horse fix for her 60th Birthday. Brought my 16 yo daughter too. Steve did a ton of work to provide healthy, happy, safe horses and a great adventure to be matched by none. Custom rides per your ability and can be slowed down or sped up at any time. I highly recommend Steve. Very affordable and provides a memorable experience. We will definitely be back. Friends
The trails were definitely not your average well-worn paths, but way in the back woods. He does tons of other locations as well, but the one we went on was more of a "beginner" path, since none of us were very good. Like he advertises, these are definitely custom trail rides. If you like adventure and running the horses, etc... he can do that, but since it's obvious that I'm a "slow and steady" kind of girl (at least when riding giant animals with minds of their own) we took the less adventurous routes, which were still beautiful and felt like you were miles away from civilization. We only saw ONE other person out riding a horse during our entire trip, which was about 3 1/2 hours. We could have gone for longer, but we booked the hottest day of the year for our ride, and none of us could handle the heat anymore.

Steve really did a good job of teaching us to ride his horses, and dealing with my whimpering and random yelps of fear. He was very fun, and I enjoyed the bantering that went on between the four of us throughout our trip. By the end, I was amazed that I was ready to book another ride! It was SO much fun, whether you're a beginner or advanced rider, I would highly recommend Steve and Ride On Horseback custom trail rides.

Anita H. Enumclaw, WA 7/9/2012
We went last year for the awesome trail ride. Highly recommend Ride on Horseback.

My daughter rides on a regular basis and has plenty of arena experience, but very little trail experience... what a great trail ride for her first experience!
I am a life long equestrian and miss owning my own horse.

Steve and Diane's horses are great. Very well trained- enough to be good babysitters ( for those that need that), but not so dead broke that you are board.

This year - guess what my daughter wants to do for her birthday?! Yep! Trail ride.
Steve and Diane, we are headed your way again.

Maya S. Everett, WA 5/15 /2012
I took a friend on a horseback ride with me and Steve was such an amazing trail guide! We had an amazing time.... The weather wasnt great at all, it was raining and it was cold but Steve made it so much fun... The Horses were beautiful and well behaved...I will deff. be back for another ride this summer, fall and winter!!!
I recommend this Horseback Ride for everyone